INTELLIGENT CUTTING EDGE TECHNOLOGY
State-of-the-art control systems. The intelligent KNX and AMX building control systems
allow perfect control over the heating, cooling, multimedia, and the special lightning
systems in the building from 800 control points. It is possible to control the music or the air
conditioning from your smart phone or the built-in iPads.
High-quality, fully equipped kitchens in the building and in the garden
First-class, specially designed, customised furniture. Built-in vacuum cleaner system, central
computer server system.
Special security equipment with outdoor and indoor surveillance systems connected directly
to the professional security guard of the estate.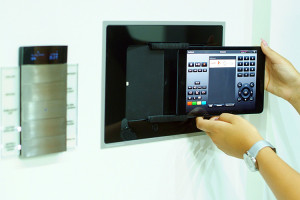 ……………………………………………………………………………………………..
Date of building: 2014
The structure of the building is made of earthquake-resistant reinforced concrete combined
with high-quality building materials inside and outside of the estate. The precious Roman
Travertine limestone coating on the building and the streetfront fence create an elegant
atmosphere of excellence, while providing perfect protection for the property.
The 'EMSZ'(Hungarian Association of Building Insulators, Roofers and Tinsmiths) Award
winning roofing is made of first-class titanium zinc coverage system.
The glass surfaces, doors, and windows are made by German high-quality manufacturer
Schüco, whose excellent aluminium products were built in throughout the whole estate. All
doors and windows feature UV and burglar-proof security glass protection.
The comfortable panorama lift for 6 person made by GMV MARTINI (Italy) provides
everyone with an easy, barrier-free access to all the 3 floors, or you may choose the glass
staircases with automatic LED guiding lights.
The estate has special LED lighting features and at night it creates a marvellous visual
experience helping safe and convenient movement around the whole estate.